The Program
The Exceptional Customer Service Program is a cost effective way to ensure your customer facing employees have the appropriate skills, are always motivated, capable and have the support to deliver exceptional customer service.
The program will ensure your managers have a good understanding of exceptional customer service, are capable of delivering customer service training to their teams and can act as a coach to keep their teams motivated and delivering exceptional customer service.
Program Guarantee
Our Specialist will work with you to create a mutually agreed KPI relevant to the objective of the program. We guarantee that if you follow our recommendations, we will meet the KPI or you will not have to make the final 50% payment.
Program Summary
The program will take managers responsible for delivering customer service on the following journey: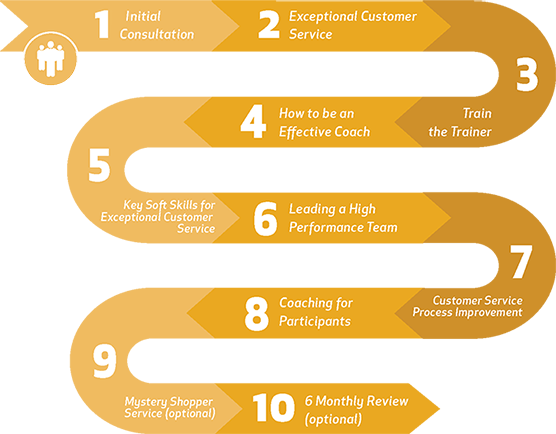 Benefits
Cost effective way to ensure future new customer facing employees have the right skills
Consistent delivery of exceptional customer service through the use of a coaching culture
Managers who take more responsibility for the growth of their teams
Edmund Seow
Organizational Development, Soft Skills & Customer Service Specialist
Edmund Seow is a speaker, trainer and facilitator with over 11 years of experience working with companies around Asia. He has spoken at over 70 workshops and seminars, impacting over 2000 participants in Indonesia, Hong Kong, China, Malaysia, Singapore and Myanmar. He was one of the speakers for the Asia Investors Convention and Exhibition in 2010, wrote for the Today Newspaper in Singapore, and was invited to appear on television to speak on the financial markets in Asia.
Some of Edmund's Previous Clients:
National Environment Agency in Singapore, Singhealth JurongHealth, Roche, AVIVA, JTC Corporation, Singapore Civil Defence Force, Phillip Securities, UOB Kay Hian, DBS Bank (SINGAPORE), RMA, Smart, Cellcard, AMK, Amret, SCG, Europ Continents, Royal School of Administration and Ministry of Social Affairs
If you want guaranteed results, contact us now.