The Program
The High Performance Sales Culture Program is a cost effective way of ensuring current and newly recruited sales people are skilled, motivated and have the support to drive sales to a higher level for your company.
The program will ensure your managers have a good understanding of the sales process, are capable of delivering sales training to their teams and can act as a sales coach to keep their team motivated and performing to the highest level.
Program Guarantee
Our Specialist will work with you to create a mutually agreed KPI relevant to the objective of the program. We guarantee that if you follow our recommendations, we will meet the KPI or you will not have to make the final 50% payment.
Program Summary
This program is designed to be a cost-effective way of ensuring your sales team has the appropriate skills and also continues to be motivated and capable of achieving consistent sales performance.
The program will take managers responsible for managing sales teams on the following journey: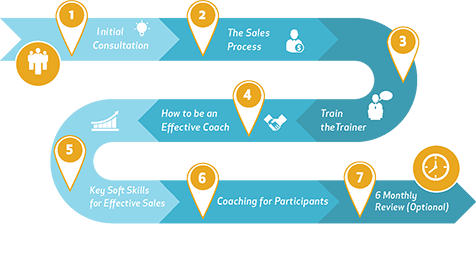 Benefits
Cost effective way to ensure future new sales recruits have the right skills
Stronger sales performance through the use of a sales coaching culture
Managers who take more responsibility for the growth of their teams
Becky Bevers
Sales, Management, Soft Skills & Food Safety Specialist
Becky Bevers has over 20 years extensive experience of training and development gained across a variety of roles held in the public and private sectors. Becky began her training career in the leisure and hospitality industry where she gained experience training across sectors such as retail, catering and hospitality. A move into a freelance role followed to focus more on management development and soft skills where Becky worked with many UK government departments as well as private sector businesses.
Some of Becky's Previous Clients:
Cellcard (Cambodia),  Smart Axiata (Cambodia), Europ Continents (Cambodia), Manpower, Adecco, Samsung, Microsoft, EMCOR facilities management, Johnsons facilities management, GAP, Sage, Siemens, Sky, Network Rail, Parsons Brinckerhoff, Thomson Online Benefits
If you want guaranteed results, contact us now.