The Six 'I's of Innovation®
Organisations see the need to make innovation part of their DNA & culture. This means innovative mindsets and behaviours need to be part of everyday working life. The benefits are clear: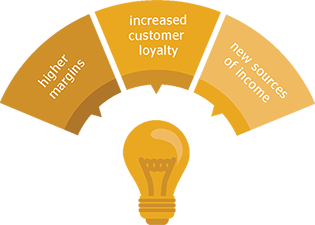 We work with organisations to help increase their productivity and profitability by creating new products and services and building innovation skills, processes and capabilities.
Program Guarantee
We guarantee that if you follow our methodologies and recommendations, by the end of the program you will have innovation projects that have reached the invest stage and add up to at least US$20,000 in potential value. If not then we will continue working with your teams until you do for no additional charge.
Natalie Turner
Inventor of The Six 'I's of Innovation®
The Six 'I's of Innovation® is an integrated innovation methodology owned by the Entheo Network, a global innovation company. The Model was invented by Natalie Turner, an innovation specialist and CEO of Entheo, to create a holistic human centred approach to innovation. It has been developed in partnership with organisations, industry and leading thinkers in the areas of behavioural and work psychology and is used by a range of businesses and organisations around the world. Its purpose is to provide a consistent framework for creating value from new ideas as well as measuring individual and team innovation skills and capabilities. The Capacity Specialists are working in collaboration with The Entheo Network to bring the Six 'I's® to Cambodia and help organisations create cultures of innovation.
Clients Who Have Used The Six'I's of Innovation®

Testimonials
... enabled our organisation to develop innovative, patient-centred propositions helping to drive a 15% uplift in sales across South Asia.
If you want guaranteed results, contact us now.