Premium In-House Program Powered by Syzygy® Space
Customised Training Programs
Organisations today are demanding better results from their training programs. They want to see behavior change that improves productivity and performance. The Capacity Specialists designs customised training program specific to our clients needs.
We have developed a unique and innovative system which icorporates the proven Syzygy® Space methodology. The Premium In-House Program powered by Syzygy® Space provides your employees with key workplace skills and knowledge. Our specialists then support participants to improve their performance in the corporate environment.
The program is wide in scope and comprehensive in its approach. It can cover any of the following skills: coaching, customer service, soft skills, marketing, sales, human resources & training, leadership, and management.
Our specialist will work with you to identify mutually agreed behaviours relevant to the objective of  the program. We guarantee that if you follow our  recommendations, participants will demonstrate the agreed behaviours in the workplace or you will  not have to make the final 50% payment.
Premium In-House Program powered by Syzygy® Space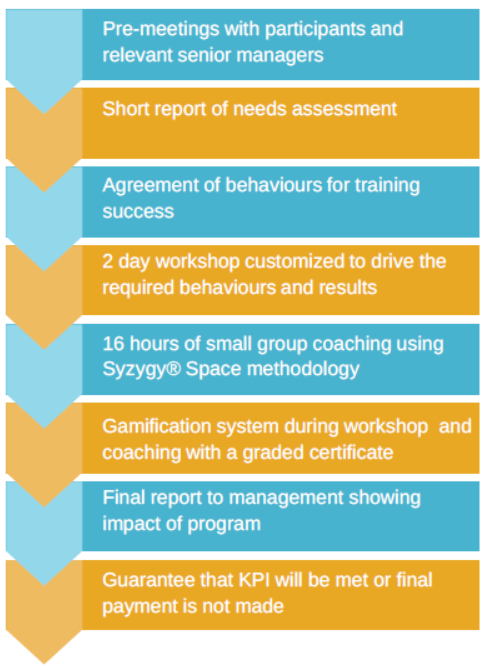 Focuses on behavior change
Uses proven Syzygy® Methodology to embed learning that impacts performance
Focuses on results
Can be delivered in a structure that matches your teams available times
Offers a guarantee
Ms. Chhoeun Leangchhay
Customer Services Officer, Hattha Kaksekar Limited
The program was very good because The Capacity Specialists provided clear explanation and there were practical games for us to play which make the points of theories we learnt more understandable. What I learnt from the program is very beneficial for me to use in the workplace as well.
If you want guaranteed results, contact us now.